Up to 10% of the UK population lives with some level of food hypersensitivity – these are allergies, food intolerances and celiac disease.
According to the Food Standards Agency, food allergies affect between 1-2% of the UK population, with some allergens responsible for hospital admissions with anaphylaxis.
1 in 100 people suffer from coeliac disease, 15% of which are undiagnosed.
Around 6,733,000 UK citizens live with food hypersensitivity; food hypersensitivities are not a factor in lifestyle or religious dietary requirements. 
The Dining Experience for People with Food Hypersensitivity
Food hypersensitivities are a scary subject for business owners. There is a lot of risk in catering to this market; each person living with a food hypersensitivity will have a different tolerance level and reaction. Allergies also develop throughout life and can worsen.
Ben Raynor of the Food Standards Agency recently spoke at the Food Allergy Aware Mock Trial, where he shared information that the FSA has found from businesses and diners.
People with Food Allergies:
Strive for a normal experience when dining outside of their home.
Prefer a mix of written information and verbal communication instead of just verbal communication.
However, businesses prefer diners to speak verbally with them about their dietary requirements. Unfortunately for businesses, this can be a large area where they lose potential customers.
Recently, we ran a small study around the dining habits of people with food hypersensitivities. We spoke to 100 participants to understand how they decided an establishment was safe to eat.
We spoke to people with a host of diverse allergies, lifestyles and religions to understand the allergy landscape. Gluten-free, Vegan, Vegetarian and Dairy Free were our data set's most common dietary requirements.
54% of participants always feel anxious when having to dine outside of their home, 20% sometimes might feel anxious.
71% of participants say they always search on Google when trying to find somewhere to go out to eat. 55% of diners are more likely to book if they have heard positive feedback from friends or family. Diners will then check Instagram, Trip Advisor and Facebook when researching where to eat.
87% of participants say they always and often check a restaurant menu online before deciding to dine there.
61% of the participants also stated that they would not dine somewhere that does not highlight dietary options and instead just has a note that reads, "Please inform a server before ordering if someone in your party requires special dietary accommodations".
29% of participants would contact a restaurant to discuss dietary requirements if the information were unavailable online.
Diners with food hypersensitivities are happy to have their menu or a normal menu with clear allergy markings. Diners often find allergy matrixes hard to read but do find them reassuring. Some diners feel that an allergy matrix in the restaurant does not allow them to have a normal dining experience.
We contacted Caroline Benjamin for her thoughts on our findings. Caroline is a pioneer in improving and educating establishments around the UK to cater to people with allergies safely and prevent near misses from contamination. When asked for comment on this topic, she stated:
'The FHS customer wants to dine out and feel part of the group they are socialising with, if there are limited or no options available, then the spend for the entire group may be restricted e.g. If the FHS has no dessert options, then the entire party may decide not to purchase a dessert, resulting in lost income'.
Food Hypersensitivity, Your Business and Google Search
With those statistics in mind, it's clear that people with food sensitivities dedicate more time to researching before they book somewhere to eat, and if that information is not clear to them, they are less likely to book.
Dominic Teague of One Aldwych is an excellent representation of what a good allergen-friendly establishment looks like; their One Indigo Restaurant's entire menu is gluten and dairy-free. During their first year of catering to food hypersensitivities, they saw an initial 30% increase in profit, with a 10-12% year-on-year increase since.
50% of their diners book as they cater to allergies, and they tend to book more large groups for parties and anniversaries due to one diner having a dietary restriction. People from all around the world, travel specifically to eat at this central London restaurant.
Since making the change, they've received global recognition, increased profits and a loyal customer base. If One Aldwych's restaurant were not so clearly labelled online, they would not have had the same success.
Not every restaurant can provide a completely allergen-free menu, but they can still cater to people with food hypersensitivities. However, by keeping track of ingredients used and ensuring their team is trained on the topics, they can still provide a great dining experience to people with food hypersensitivities.
Many museums, hotel chains and restaurants have menus online but either do not provide information clearly or in a way that's easy for Google to understand. They can still get awareness through other marketing channels or Word of Mouth, but they are missing an opportunity by not appearing in Google Search.
How Google Reads Menus Best
Google is an incredibly powerful tool for businesses worldwide; it helps users find restaurants locally, nationally, and globally. The Food Hypersensitive [FHS] spend significant time planning where to go and where to eat; they need to ensure they feel safe and are happy to pay a little more for a quality meal. There are over 44,000 monthly local searches for terms containing "gluten free near me" in the UK alone.
SEO for restaurants, hotels, cafes and museums each comes with their own challenges, but there is a lot of scope to bring in customers from Google search. There are technical and content aspects you need to consider to see that success.
Google only knows what you tell it; Google cannot make assumptions. This is where many businesses fail to advertise their menus. Through SEO, you can position your business as a leader in inclusive dining options and increase your profits.
Your content needs to be precise – what dietary requirements do you cover? Do you have separate menus? Is there a dedicated space in the kitchen for preparing safe dishes? Don't just imply you are a safe provider. Explain what you do.
Present your menus in a way that Google can understand. Many restaurants will upload a Word document, PDF or image of their menu, as they have often spent a long time designing and/or it's easier. However, Google likes plain text in HTML, and sometimes, it struggles to fully understand the content that needs to be downloaded. This could affect both regular menus and dietary-specific menus.
You don't just need to tell Google on your menu pages; you can specify in your content, location pages, or your Google Business Profile. There are multiple methods to advertise how you cater to dietary requirements.
This way, you won't just appear in Google when someone searches your business name, but you can target those local search terms, i.e., "Gluten-free restaurant near me" or ". You'll be able to target new diners, tourists, and foodies.
In October, Google started testing a new feature allowing you to select your food preferences in local searches. If your website and menu are accessible – it will be even easier for new diners to find your business.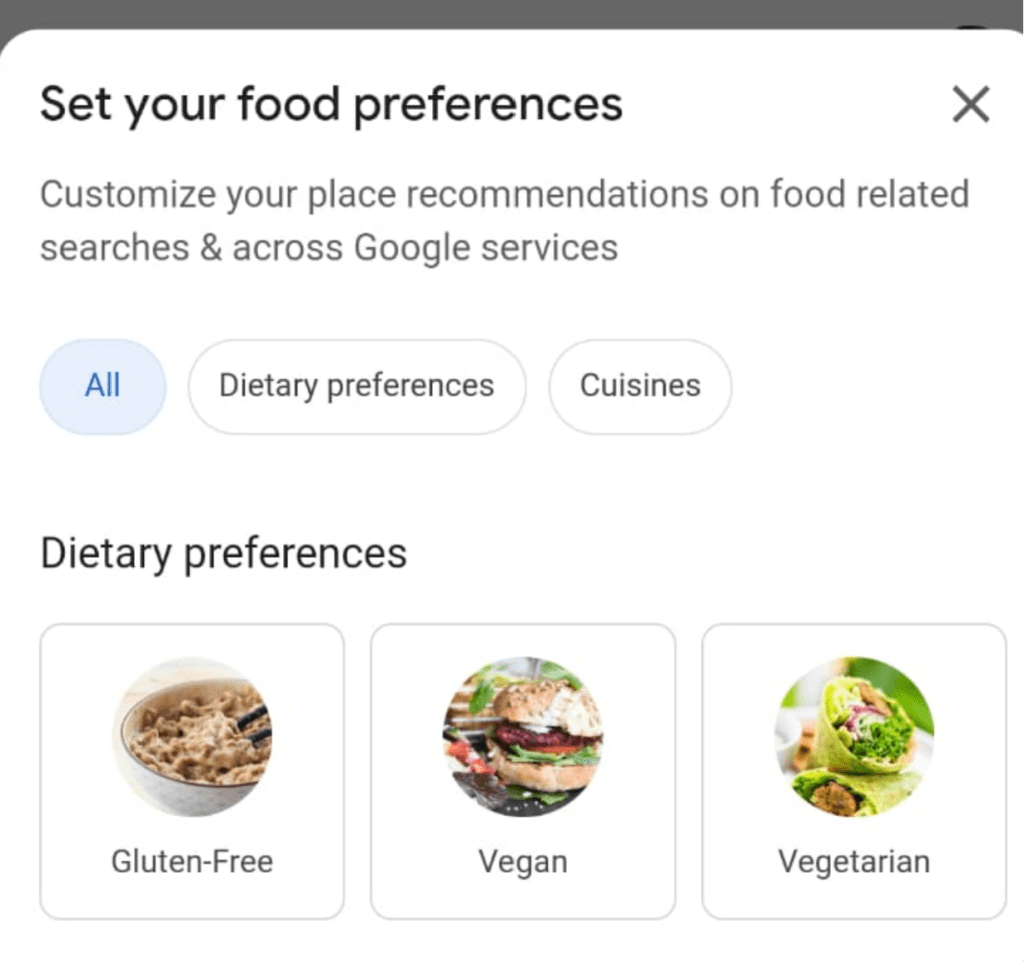 Safe Dining = Loyalty
Uptake Agency and its founder, Billie Geena, feel incredibly passionate about this subject as they also have food hypersensitivities. They have dedicated time to researching and understanding dietary requirements to create specialised packages for establishments catering to various Food Hypersensitivities.
Billie Geena states, "As a diner with awkward food intolerances, this is a selfish passion project we have started. I want to make it easier for me and those like me to find places to visit that are safe to eat at. I know there are fantastic places that aren't found on Google Search. When travelling, I've frequently visited Facebook Groups, Forums and Instagram to find recommendations, only to realise the establishments have a website inaccessible to Search Engines.
There is an incredibly loyal customer base, and we are here to connect diners to fantastic providers. I'm so proud of what we have built at Uptake Agency."
"We are collaborating with leaders in education and consultation around food hypersensitivity awareness and compliance. We have a strong sense of justice and passion for this project and industry."